Experiencing Cusco, Peru
By: Cecilia L. – Cal Poly Student
Cusco took my breath away…literally. The beautiful city of Cusco is 11,000 feet above sea level and I definitely felt it! However, that didn't stop me from experiencing the rich culture and adventures that Peru had in store for me. At first, I had some concerns about being in a whole other country without my family but that quickly disappeared when we got to our homestay and met our host family. They welcomed us in and took us around the city showing us spots that I would not have found without them. They taught us how to take the bus and I had to say it was a bit scary at first, but now I miss the imperial bus that I took almost every day.
I was also able to experience speaking Spanish every day outside of a classroom. I've never been that confident with my Spanish skills even growing up with a family that mostly spoke Spanish. However, my time in Peru not only bolstered my confidence but also provided ample opportunities for me to enhance my language skills. Most of our learning experiences occurred outside the classroom, through captivating field trips to places like Lake Titicaca, the Amazon, and Machu Picchu. These adventures not only offered insights into the rich history of the Incan people but also allowed us to immerse ourselves in Peruvian culture. The experience was undeniably one of the best experiences of my life. The culture I was immersed in and the adventures I had could never be replaced by a book, except perhaps one of my own making. 
Cecila is a fourth-year Anthropology and Geography major with a concentration/minor in Biology. In Spring of 2022 she was able to study abroad in Peru. She is also a peer advisor with the International Center helping students attain their study abroad dreams. We hope this story inspires some of you to look into our many Study Abroad Programs. 
Building inclusive study abroad opportunities in a multiethnic community in Palermo, Italy
By: Elvira Pulitano (she/her/hers) – Professor, Ethnic Studies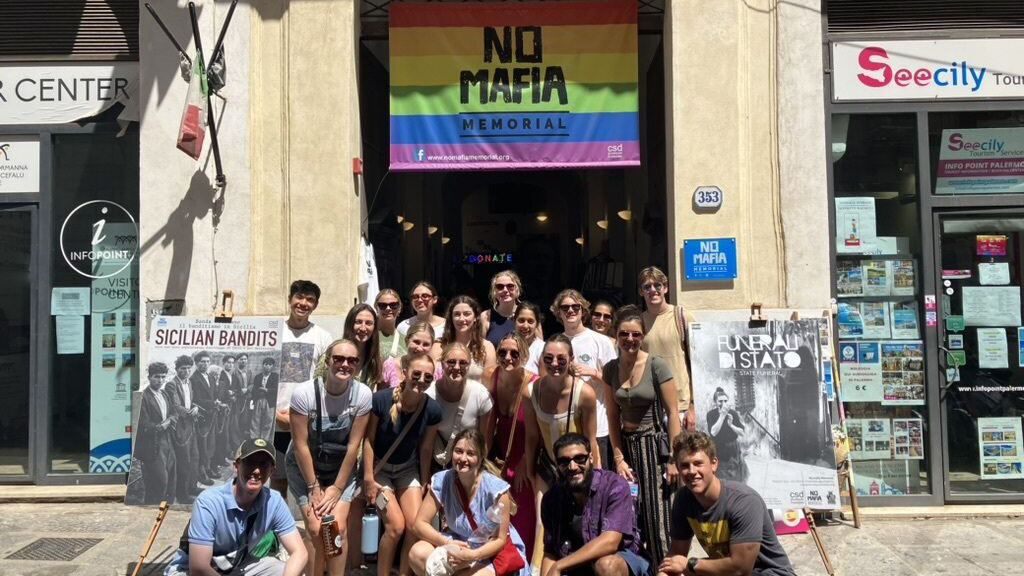 This past summer Dr. Pulitano led twenty-two Cal Poly students in a Global Program in Palermo, Sicily's capital. While technically part of Italy, the city of Palermo has always been considered the heart of the Mediterranean with its rich, multicultural history spanning millennia. Today the city is at the center of ongoing debates surrounding migration and border-crossing in Europe as it is considered the capital of rights, welcoming, tolerance, and culture. Besides daily visits to the city's major historical, cultural and artistic sites, students had the opportunity to experience first-hand Palermo's multicultural and multi-ethnic character. The program included a two-day cycle of activities with Moltivolti and Giocherenda, two Palermo-based cultural associations run by young migrants and refugees from several African countries. These experiences offered a great lesson in storytelling, decolonial thinking, and collective learning. The program also included three excursions around Sicily, to the towns of Erice, Cefalú, and Agrigento, to visit local UNESCO Heritage sites. 
Inspired by the success of Cal Poly's Global Program in Sicily, Dr. Pulitano has submitted a proposal for the 2023-2024 BEACoN Mentorship program. Through this endeavor, Dr. Pulitano hopes to produce a study that contributes to the current debates about decolonizing international education and suggesting alternatives to education abroad programming and pedagogies. A study of this caliber will support efforts that lead to more inclusive and sustainable international study abroad programs. The proposed BEACoN project will hire one research scholar among the students who participated in the Cal Poly Global Program. The selected scholar will conduct research and collaborate with Dr. Pulitano on a co-authored journal article. 
In 2024-25, Dr. Pulitano will serve in the role of director in the CSU IP Program in Florence, Italy. With expertise in international education and experiential knowledge about her native country, she hopes to make studying in Italy an inspiring and enriching experience for all our CSU students.
Be sure to check out our info sessions during International Education week where you can learn more about our Global Programs, faculty and student opportunities.