New faculty-led program launched in Costa Rica!
Nick Babin, assistant professor in the Department of Natural Resources Management and Environmental Sciences (NRES), led a group of 15 students on a five-week Cal Poly Global Program called 'Cal Poly in Costa Rica: Agriculture & Conservation' in summer 2022. On this program, students deepened their understanding of the theory and practice of forest conservation and sustainable agricultural development through intensive, interdisciplinary field studies in multiple locations throughout Costa Rica. Students engaged in a variety of hands-on projects exposing them to skills and tools for sustainable development, intercultural communication, and tropical conservation. This program will be offered again in summer 2023. Learn more about Cal Poly in Costa Rica.
Cal Poly in London relaunched after two-year hiatus!
After COVID-19 brought the Cal Poly in London program to a halt for summer 2020 (and 2021!), Professors Tom Bensky and Giancarlo Fiorenza collaborated with our partner FIE—Foundation on International Education in London and the International Center to relaunch the program. The Cal Poly in London program was Cal Poly's inaugural faculty-led study abroad program that began in 1984. The flagship program has had a long-standing tradition of excellence and continues to be one of Cal Poly's most sought-after opportunities for both students and faculty. Professor Tom Bensky describes some of the highs and lows of the program: "We're in our last week here. It's been quite an interesting trip: transit strike, heat wave, Covid, and PM resigning!  As someone at FIE said, 'Welcome to life in modern-day London!' We took it all in stride. Here's a pic of a trip with Professor Giancarlo Fiorenza to the National Gallery —what a great group." Professor Fiorenza taught "The Art of Love in the Renaissance" and Professor Bensky taught "Longitude, Navigation and Timekeeping." The group's excursion to the Museum of Timekeeping was featured in "The Horological Journal" in October 2022!  Learn more about Cal Poly in London.
Experience Industry Management launches new Global Certificate!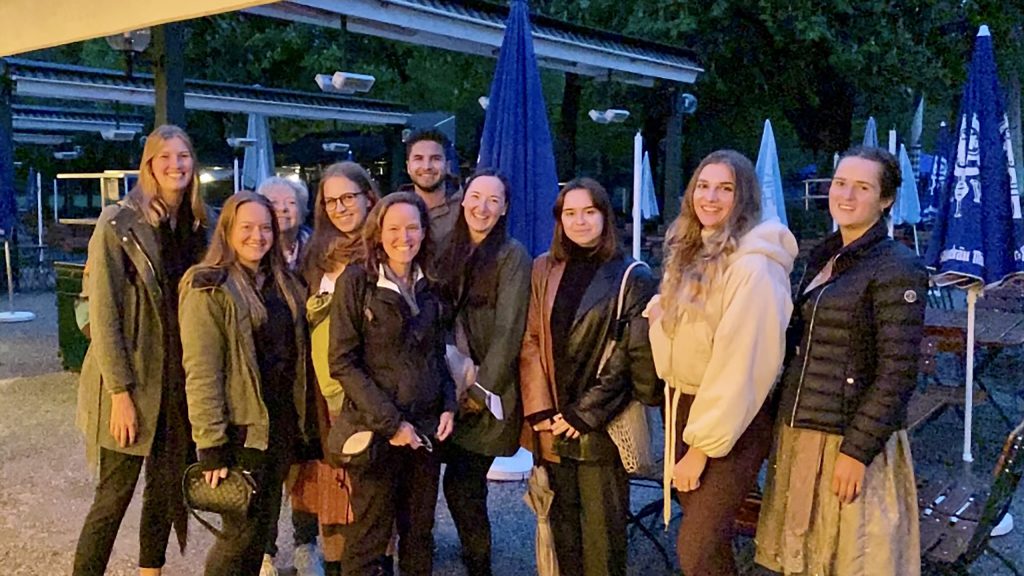 Cal Poly and Hochschule München (HM) University of Applied Sciences have partnered to create a new opportunity for students who are interested in Sustainable Global Tourism. Dr. Marni Goldenberg, from Cal Poly, and Dr. Ralph Berchtenbrieter, from HM, are proud to announce a new Certificate of Completion in Sustainable Global Tourism. This project was developed to increase knowledge of global sustainable issues related to tourism and allows for students to take courses at both universities. Students take two courses from each university and submit a final internationally-focused project based on their areas of interest related to the topic. This is a unique opportunity that will be great for developing global competency skills as well as enhancing Learn by Doing in the Cal Poly and German contexts. The goal for the Certificate of Completion in Sustainable Global Tourism is to increase student exchange participation between HM and Cal Poly. Professor Goldenberg states: "HM has an incredible tourism department and provides students an amazing opportunity to learn about tourism in a different country while experiencing a new culture." View more information about Cal Poly Exchange with Hochschule München University of Applied Sciences (Munich).
Faculty Opportunities
Interested in proposing a new Global Program or international exchange partnership? Visit Faculty Opportunities and consider attending our International Opportunities workshop on Tuesday, November 15.