International Education Week
November 14, 2022

-

November 18, 2022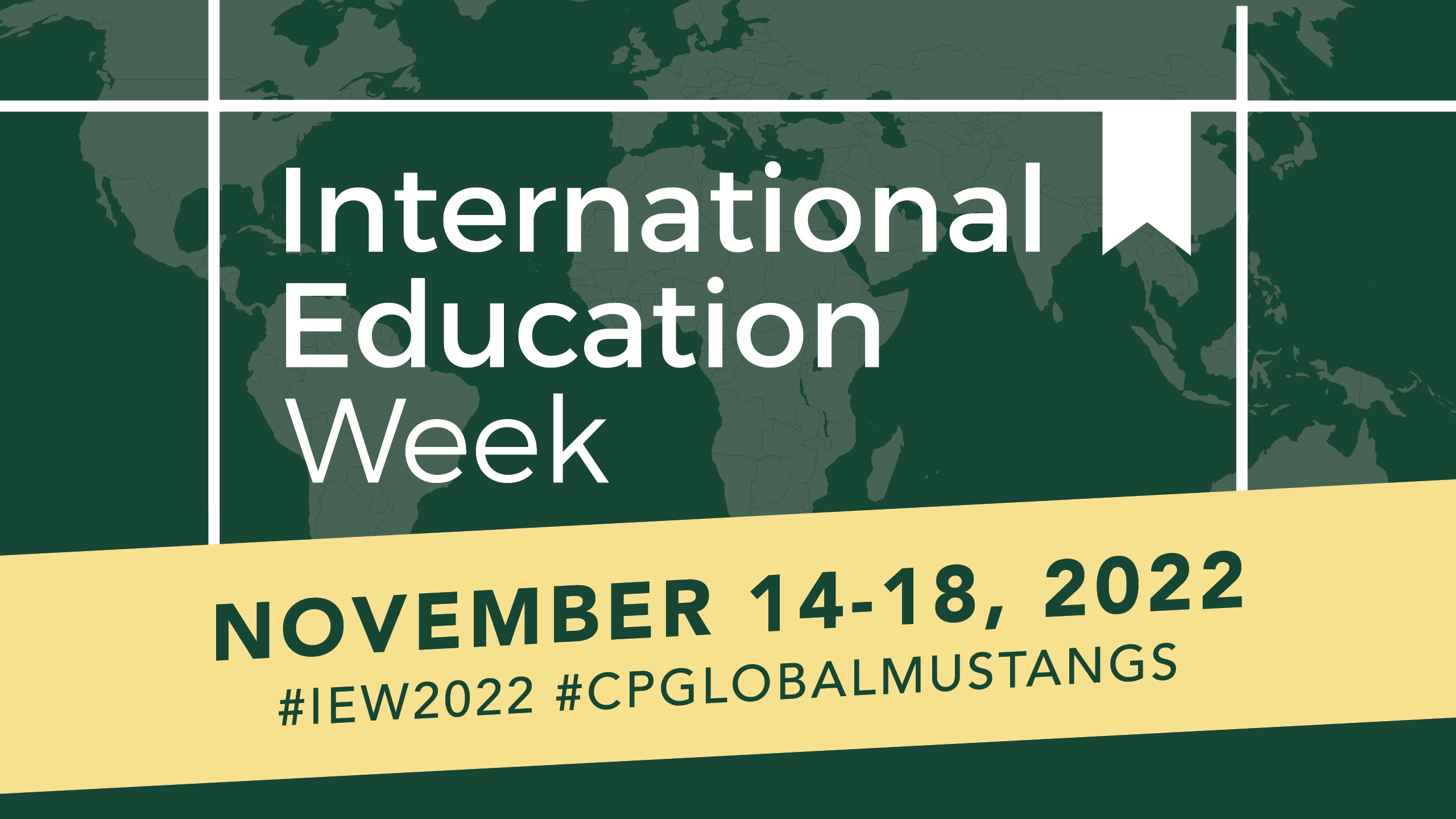 Join the Cal Poly International Center for International Education Week.
The International Center will host a series of events from Nov. 14-18 to celebrate International Education Week. An initiative of the U.S. Departments of State and Education, International Education Week celebrates the benefits of international education and exchange worldwide. This week's events provide opportunities for the campus community to participate in cultural and educational programming at Cal Poly by sharing their international experiences. Events include:
International Education Week Raffle – Cal Poly student, faculty and staff participants will be entered into a raffle to win swag bags during IEW 2022. Use both hashtags #IEW2022 and #CPGlobalMustangs to be entered to win. Additional prizes for participating in IEW events. Raffle winners will be notified via email by November 28.
International Themed Meals
Campus Dining will host internationally-themed meals. Please see the Campus Dining for more information.
Study Abroad Workshops
Study abroad workshops will guide you through goal setting, financial and academic planning, program selection, and the application process.
Living Abroad - Student Panel
Open House: International Opportunities for Faculty & Staff
Financial Aid & Scholarships Workshop
Internships Abroad Info Session
Study Abroad 101 Workshop
Cal Poly in Vietnam, Summer 2023 Info Session
Study Abroad 101 Workshop
Cal Poly in Peru, Spring 2023 Info Session
Cal Poly in Prague: Construction Management, Summer 2023 Info Session
Cal Poly in Prague: Construction Management, Summer 2023 Info Session
Cal Poly in Sicily: Language & Culture, Summer 2023 Info Session
Sipping Coffee and Spilling Tea
Fulbright U.S. Student Program Info Session
11/15/2022
11:00am - 1:00pm
11/15/2022
3:10pm - 4:00pm
11/16/2022
11:00am - 1:00pm
11/16/2022
1:10pm - 2:00pm
11/16/2022
2:10pm - 3:00pm
11/16/2022
3:00pm - 4:00pm
11/16/2022
3:30pm - 4:30pm
11/17/2022
11:10am - 12:30pm
11/17/2022
2:10pm - 3:00pm
11/17/2022
3:10pm - 4:00pm
11/17/2022
3:10pm - 4:00pm
Related Events